From: MVC-Sports.com
Illinois State earned its first-ever outright MVC regular-season title after finishing 16-5 in league play – and the Redbirds have earned the tournament's top seed. The Redbirds were also regular-season co-champions in 2010, sharing with Wichita State.

Illinois State enters the tournament on the heels of a five-game winning streak after taking all three matchups this weekend against Southern Illinois and the final two against Evansville the previous weekend.
The Redbirds will host the MVC baseball tournament beginning on May 21. Click here to see the full tournament bracket: 2013 MVC baseball tournament bracket

As I sat and ate lunch today I started to punch out my admittedly way too early initial effort in ranking the MVC mens basketball teams for 2014.  There's only so much that can be entered in 140 characters, but here is the quickie version.
MVC Power Rankings:
1) Wichita St – will be near unanimous first place pick. How much will the Shockers miss Armstead and more importantly, Carl Hall?
2) Indiana St - return everyone from last season.
3) UNI - I predicted them too high last season at #2. Hope I don't make same mistake.
4) Bradley – might be too high, but Lemon Jr is a stud.
5) Missouri St – will last year's star frosh develop or slump? High ceiling here.
6) SIU – Salukis showed progress last season and could jump up here.
7) Evansville – replacing Colt Ryan is tough assignment for Marty
8 ) Loyola - I put Ramblers here acknowledging I have a lot of homework to do.
9) Illinois St – massive holes to fill in Normal
10) Drake – New coach could make for a rough season.

You can discuss this and more on the MVCfans.com message board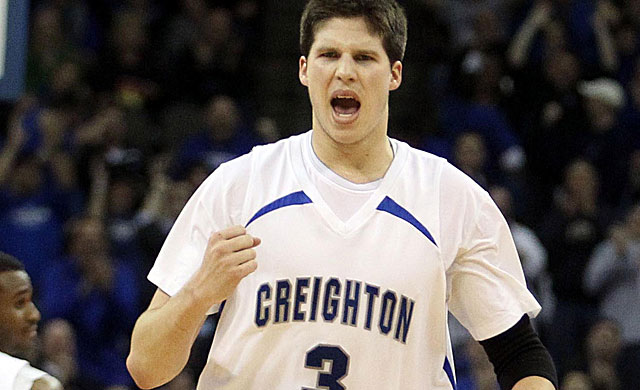 With a simple tweet, Creighton fans breathed a sigh of relief when two time All-American Doug McDermott announced that he would return to Creighton for his senior season.
Doug McDermott @dougmcd3

I will be returning to Creighton for my senior year and can't wait to put on that uniform for one more season!
At a press conference on Thursday afternoon, McDermott said, "I was in my dad's office and we were going over some things. That's when it hit me. I told him I think I'm ready to come back.
I went with my gut on this one. My heart has been telling me all along to stay, but my mind tried to take over a couple of times. I just ended up trusting myself that I was making the right decision."
Welcome to all student-athletes, alums, and friends of Loyola University as the Ramblers will officially join the Valley on July 1, 2013.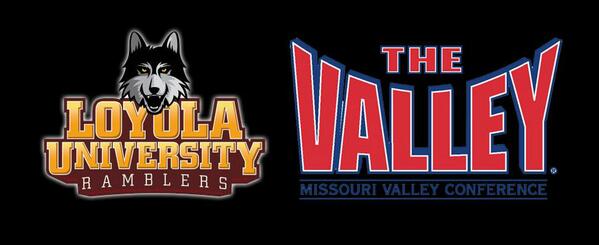 I'll be your professor for the evening. This is a very informal introduction to Loyola University of Chicago, the newest member of the MVC. First things first, don't call them Loyola Chicago. They hate it. Call them Loyola or LU, and you'll be fast friends.
So, the Missouri Valley Conference is accepting Loyola as its replacement for Creighton on the way out the door. No, they don't average 15,000 fans per game. No, they haven't been to the tournament since before every Division I basketball player today was born. No, they haven't been relevant in the Horizon League for seven years, and only briefly then.
You should be ecstatic with the move made by your conference leadership. Let me tell you why, from the perspective of someone who has been a rival to Loyola for a long time.
First off, Loyola is a first class university. This is a bona fide Jesuit institution – the largest in the country at 15,000 – with a medical school and law school of decent size. Like most urban universities, they have a central campus and then spread themselves around town. Loyola's main campus is where the undergrads live and take most of their classes. It's also the home of the Gentile Arena, their home for basketball.
And that's what you care about at the end of the day, right? Basketball. So why get excited about a team that is second only to Youngstown State as the worst basketball program in the Horizon League since 2000? The answer is investment.
Read the rest of this entry »
Jonathan Lintner of the Evansville Courier Press is reporting that the Missouri Valley Conference will add Loyola-Chicago to replace Creighton University. The addition fulfills the reported desire for the league to add a private institution rather than a public school, while also allowing the Valley to enter the Chicago area.
From Jonathan Lintner:
Loyola University Chicago, one of UE's former Midwestern City Conference rivals, has accepted an invitation to join the MVC and will be announced as the its newest member at a news conference Friday.

The private Jesuit university replaces another with the same values, as Creighton's departure for the new Big East Conference next season created the opening.
link to full report: ECP reporting Loyola-Chicago to join Missouri Valley Conference
Exciting news this week as the Missouri Valley Conference had two teams in the final Coaches poll of the mens basketball season. From MVC-Sports.com:
For the first time since 1979, the Missouri Valley Conference has a team in the Top 5 of a final national basketball poll. Wichita State (4) and Creighton (21) represent the MVC in the final USA Today Coaches poll, released April 9. The Bluejays were also ranked No. 23 in the final Associated Press poll, announced prior to post-season action.

It marks the second-straight year that Wichita State and Creighton represented the MVC in a season-ending Top 25 poll. Last year, Wichita State (18) and Creighton (19) were ranked in the season-ending AP poll. Creighton was No. 21 in the USA Today poll at season's end in 2011-12.
link: MVC-Sports.com
The perfect game. It's what Wichita State delivered for the first 27 minutes of their Final Four matchup against Louisville on Saturday night in Atlanta. The Shockers punched the Cardinals in the mouth from the opening tip and gained an early 8-0 lead. WSU's shots were falling and the Cardinals were reeling (including 0-4 from the free throw line). It seemed as if the script was written by Gregg Marshall himself. However, as with any good story, there must be a challenger fighting for his own existence and that is exactly what we saw play out.
After a somewhat sloppy start, as one might expect, Pitino's group rallied.  Despite several first half lead changes, the Shockers led at halftime 26-25.
The second half was classic NCAA tournament basketball. Behind Cleanthony Early and Carl Hall, Wichita State opened a 47-35 lead with just over 13 minutes to play. Against Louisville's vaunted defense, the Shockers went a stretch of over 20 minutes without committing a turnover.
However, back to back three pointers by Tim Henderson cut the WSU lead to six, 47-41. Minimizing turnovers, which Wichita State had done marvelously the entire game, became an issue as the Shockers had three in quick succession. The game was balance throughout the final 10 minutes as the Cardinals' Luke Hancock scored 12 points during that time as Louisville surged from the earlier 12 point deficit to a 65-60 lead with under 2 minutes to play.
Three consecutive baskets by Early and a Carl Hall layup sandwiched a Hancock basket and 4-6 free throw shooting by Louisville and the Shockers were within 2 with 12 seconds to play. Hancock was fouled and made the first of two free throws, but missed the second. Wichita State's Ron Baker got the rebound but was tied up by Hancock for a jump ball on a whistle that should have never been blown and the Cardinals' regained possession and sealed the victory at the free throw line.
Early led the Shockers with 24 points and 10 rebounds. Carl Hall added 13 points.
Wichita State vs Louisville
Atlanta, GA
5:09 CDT (CBS)

Let's start with a quick review:
Louisville has played and defeated two Missouri Valley Conference teams this basketball season. The Cardinals needed a late three point play by Russ Smith to defeat UNI 51-46 and the benefit of some home cooking from the officials to hold off Illinois State 69-66. Wichita State was 4-1 against those same two MVC foes. Can we learn anything by comparing the results of those games? Maybe not a lot – both Louisville and Wichita State played without key players due to injuries in some of those contests. On the other hand, the scores should tell you that Louisville isn't head and shoulders better than everyone else in the country as the media have made them out to be.
As if they haven't already done so by making the Final Four, can the Shockers stun the basketball world by upsetting the overall #1 seed? My answer is – absolutely. While a fine team, the Cardinals (like the Shockers) lost three consecutive games earlier this season. The trouble for WSU is that Louisville has now won 14 games in a row. Add in the emotional boost they appeared to receive from Kevin Ware in the second half of their regional final win over Duke, and the Cardinals will be the most formidable opponent yet for head coach Gregg Marshall and Co.
What will it take for Wichita State to win and play for a national title on Monday night? Two things – minimizing turnovers and making shots. Sounds simple, right? The Shockers did both of those things for 30 minutes against Ohio State and built a 20 point lead. In the last 10 minutes they did neither and almost gave it all back.
Louisville will play a relentless defense – one that Wichita State doesn't see in the Valley. Breaking pressure will allow WSU to get good looks at the basket, however, the Shockers will not have the rebounding advantage over the Cardinals that they've had over their earlier NCAA opponents. I think Wichita State will need to shoot at least 50% from the field to win and probably needs to make at least 7-8 three pointers. WSU had their best night shooting night of the season the last time they played (and upset) a #1 seed, so don't discount the possibility that it can happen again.
I've picked the Shockers to win all four of their NCAA games so far (go ahead and scroll down to see for yourself). Why stop now? I think Cleanthony Early goes off and Wichita State gets a late Malcolm Armstead basket to send the Valley into a state of euphoria as the Shockers will play for a title on Monday night against Syracuse.
Prediction: Wichita St 60 Louisville 59
Shockers with the biggest win for the Missouri Valley Conference in a generation!!
Congratulations to the Wichita State Shockers for their 70-66 win over Ohio State in the West Regional final.
Wichita State led Ohio State throughout the game, leading 51-31 with 12 minutes to play, but the Buckeyes battled back and cut the lead to 62-59 with under 3 minutes remaining. Tekele Cotton responded with the biggest shot of his career as he nailed a three pointer on the ensuing possession to give the Shockers a 65-59 lead. A basket by freshman Fred VanVleet followed and the Shockers were preparing to cut down the nets.
Senior guard Malcolm Armstead was named the Regional Most Outstanding Player. He led the Shockers with 14 points and 7 rebounds.
You can discuss this and more on the MVCfans message board