Uncategorized
Jonathan Lintner of the Evansville Courier Press is reporting that the Missouri Valley Conference will add Loyola-Chicago to replace Creighton University. The addition fulfills the reported desire for the league to add a private institution rather than a public school, while also allowing the Valley to enter the Chicago area.
From Jonathan Lintner:
Loyola University Chicago, one of UE's former Midwestern City Conference rivals, has accepted an invitation to join the MVC and will be announced as the its newest member at a news conference Friday.

The private Jesuit university replaces another with the same values, as Creighton's departure for the new Big East Conference next season created the opening.
link to full report: ECP reporting Loyola-Chicago to join Missouri Valley Conference
Wichita State vs Ohio State
Los Angeles, CA
6:05 CDT (CBS)

It doesn't get any bigger than this. Wichita State faces off against Ohio State for a trip to the Final Four on Saturday night in Los Angeles, someplace the Shockers haven't been since 1965. And a place no Missouri Valley Conference team has ventured since Larry Bird led Indiana State to the national title game in 1979.
It's hard to explain how we got to this point. Just over a month ago, on February 27, Wichita State was playing on senior night at home against Evansville. The Shockers had a one game lead in the MVC race with two games to play — a win over the Aces would insure at least a share of the conference title. Instead, Evansville left Koch Arena with a surprising 59-56 win. Four days later, the Shockers were blitzed by Creighton 91-79 on national TV.
Flash forward and you'll see a much different Wichita State team. The return and emergence of Ron Baker have given the Shockers an outside weapon that was missing for much of conference play. Almost universally, it was felt that the way to beat Wichita State was to force them into being a jump shot team. With Baker back in the lineup, the scouting report becomes more complicated. If a team plays Baker tightly on the perimeter, it allows Carl Hall to dominate the paint. Pick your poison.
The challenge presented by Ohio State will be different than those faced by Wichita State in their earlier NCAA games. The Buckeyes are led by one of the best competitors in college basketball – Aaron Craft. The point guard made both a defensive and offensive play at the end of regulation to boost Ohio State past Iowa State. He distribution skills led to an open three pointer for a teammate which gave the Buckeyes another near buzzer beater in their win over Arizona on Thursday.
Ohio State has won 11 consecutive games and has not lost to an unranked team this season. The Shockers are peaking at the right time. Who previals?
The strength of Wichita State is their ability to rebound and get additional possessions on the offensive end. They dominated LaSalle on the glass and I think they can do the same to Ohio State. The Buckeyes rank 135th nationally in rebounding. If the Shockers can get their shots to fall early, pack your bags for Atlanta and the Final 4.
Prediction: Wichita State 65 Ohio State 61
Here are the current standings / seeds for the MVC conference tournament if the season ended today.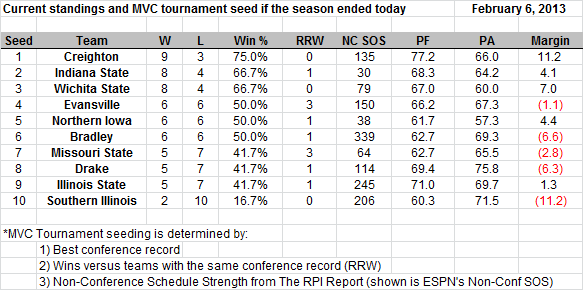 MVC games without TV coverage:
UW-Green Bay at Drake
Bradley at UIC
Illinois State at Utah State
Evansville at Wright State
Missouri State at Eastern Michigan
Miami OH at Southern Illinois

TV Games involving MVC teams:
Date  Time (ET)
Sat, Feb 23
11am
Iona at Indiana State
ESPNU
4pm
Detroit at Wichita State
ESPN or ESPN2 / WatchESPN
6pm
No. 16 Creighton at Saint Mary's (Calif.)
ESPN or ESPN2 / WatchESPN
8pm
Denver at Northern Iowa
ESPN3
From MVC-Sports.com
ST. LOUIS — Creighton's Doug McDermott is the 2012 MVC Larry Bird Player of the Year. McDermott is the first sophomore in league history to earn the league's top honor. He leads The Valley and ranks third nationally with 23.1 points per game, and he ranks second in the conference in both rebounding (8.1 rpg) and three-point percentage (47.9). He has helped Creighton to a 25-5 record, 14-2 league record and No. 24 national ranking.

He received 25 of a possible 36 first-place votes and outdistanced Wichita State's Garrett Stutz in voting conducted by coaches, sports information directors and a media panel (voters could not vote for their own student-athlete.) From 1969-2011, 0 freshman, 0 sophomores, 15 juniors (seven of whom repeated) and 28 seniors had won the award.

McDermott's five MVC Player of the Week accolades were the most by any individual in a season in 25 years, and the only sophomores in league history with more points in a season are Oscar Robertson and Larry Bird. McDermott is the first Creighton player named MVC Player of the Year since Booker Woodfox in 2009, and fifth different Bluejay overall. He's the second player in MVC history to be named both MVC Freshman of the Year and MVC Player of the Year (joining Southern Illinois' Ashraf Amaya).
First Team Yr. Pos. 
Doug McDermott, Creighton So. F 6-7
Joe Ragland, Wichita State Sr. G 6-0
Colt Ryan, Evansville Jr. G/F 6-5
Garrett Stutz, Wichita State Sr. C 7-0
Kyle Weems, Missouri State Sr. F 6-6
Second Team
Jackie Carmichael, Illinois State Jr. F 6-9
Jake Odum, Indiana State So. G 6-4
Rayvonte Rice, Drake So. G 6-4
Ben Simons, Drake Jr. F 6-8
Antoine Young, Creighton Sr. G 6-0
Honorable-Mention Selections
Taylor Brown, Bradley Sr. F -6-4
Denver Holmes, Evansville Sr. F/G 6-4
Anthony James, UNI Jr. G 6-0
Toure' Murry, Wichita State Sr. G 6-5
Mamadou Seck, S. Illinois Sr. F 6-7
You can discuss this and more on the MVCfans.com message board:
MVCfans.com basketball discussion

There are a couple of Valley games tonight with high intrigue. The matchup between the Shockers and Bears offers WSU a chance to celebrate a league title on their home floor. The Aces-Panthers game is a chance for one team to inch further away from a Thursday night date in St. Louis.
Missouri State (+11.5) at Wichita State
After the hiccup in Des Moines, Wichita State has not only looked like the best Valley team, but one of the better teams in America. It's a big number tonight as the Bears enter the Roundhouse, but I suspect Kyle Weems will be prepared to play and Missouri State keeps it close. I'll take WSU to get a close win, but MSU to beat the spread.
Northern Iowa (+1) at Evansville
This is a critical game to help stave off a Thursday night appearance for both teams, but it probably means more to Evansville since they close the season against Missouri St and Creighton. For comparison, UNI has Bradley & SIU remaining. After a putrid second half against Drake, I'll take Colt and Co. to get a much needed win tonight at home.
You can discuss these games and more on the MVCfans.com message board:
MVCfans.com basketball discussion
Happy to announce an affiliate sponsorship with swagbucks.com – I was able to get a $5 amazon giftcard without any effort.


For every member who registers on the site by clicking on the link above, we receive a small fee which enables us to refrain from asking for donations to keep this site up and working.  It is our plan to move to a dedicated server and continue with upgrades such as The MVC Report.  We hope you will take just a moment to visit swagbucks and register.
Thanks-
Admin

Here's what I predict what will happen,not what should happen!
All-MVC 1st Team
McDermott (POY)
Murry
Young
Weems
Odum
All-MVC 2nd Team
Echenique
James
Seck
Carmichael
Simms-Edwards
Order of finish -
1. CU – 16-2
2. WSU – 14-4
3. InSU – 11-7
T4. UNI – 10-8
T4. UE – 10-8
T4. MSU – 10-8
7. BU – 7-11
8. IlSU – 5-13
9. DU – 4-14
10. SIU – 3-15
Here are a couple of sites where "experts" give their picks:
Pregame:

Accuscore:

The hotel assignments for Arch Madness have been announced and I saw this deal from travelocity.  Might be worth looking into in you like to plan ahead. I did a quick search for St. Louis during the dates of the MVC tournament and it looked like lots of particpating hotels.

$50 for $100 Travelocity Hotel Gift Card (50% off)