This is the final MVC Power Rankings before the conference season starts.  A note: I contemplated ranking only 7 teams on principle and leaving Loyola, SIU, and Bradley in the "others receiving votes" category after somewhat brutal non-conference performances.  Fortunately, Illinois State moved up to #6 or I'd be predicting a possible Thursday night pair of games between the four MVC schools located in Illinois at Arch Madness.
MVC Power Rankings
1) Wichita State 13-0 – Could the '13-'14 Shockers be better than last year's Final 4 team? The best start in school history forces an examination of when (if?) this team will lose in the regular season.
2) Indiana State 9-3 - Sycs got a much needed win on Saturday earning a season split with Belmont with senior PG Jake Odum scoring 25 and 23 in those two contests. An RPI in the 90′s makes an at-large unlikely, however.
3)Northern Iowa 6-6 - The record isn't impressive, but if Ben Jacobson can get the type of performance that his team showed in a 77-68 win over VCU, the Panthers will be a handful in MVC play.
4) Missouri State 10-2- Flipside of UNI as the Bears have a great record (bolstered by a SOS of 210), but MSU needed a buzzer beater to defeat SEMO at home yesterday.
5) Drake 9-3 – Even though Bulldogs have only 2 wins over teams with winning records (UN-Omaha and W. Michigan), Drake has exceeded expectations so far with a new coach.
6) Illinois State 7-5 – Redbirds have shown flashes of their potential, winning 6 of 7 including games vs #25 Dayton and DePaul. Daishon Knight has scored in double figures 10 consecutive games.
7) Evansville 7-6 – Aces have lost 6 of 8 (including a head scratching home loss to Jackson State), but close losses to Xavier and Butler tell me they won't be an easy win and could be an MVC spoiler again.
8 ) Loyola 5-7 – Head coach Porter Moser begins his third trip around the Valley (played at Creighton and previously coached Illinois State) with a tough game in Terre Haute on New Year's Day.
9) Southern Illinois 4-9- Barry Hinson made national headlines with his now famous rant following an SIU loss to Murray State. One has to think there will be more gems coming from the pulpit in Carbondale with a long MVC season ahead.
10) Bradley 5-8 – Braves didn't win a game in December and the wheels appear to have come off the bus in Peoria. BU ranks 299th in college basketball at 66.2 ppg.
You can discuss this and more on the MVCfans.com Message Board
For the first time since December 2006, the Wichita State Shockers are ranked in the AP Top 10. The 12-0 Shockers are off to their best start in school history and Gregg Marshall's squad remains one of only nine unbeaten teams in college basketball.
Rank Team Record Votes Previous
1 Arizona (63) 12-0 1623 1
2 Syracuse (2) 11-0 1528 2
3 Ohio State 12-0 1462 3
4 Wisconsin 12-0 1390 4
5 Michigan St 10-1 1336 5
6 Louisville 11-1 1274 6
7 Oklahoma St 11-1 1221 7
8 Villanova 11-0 1116 8
9 Duke 9-2 1108 8
10 Wichita St 12-0 981 11

You can discuss this and more on the MVCfans.com Message Board
Valley fans have known for years that Barry Hinson is the prince of basketball quotes, but the national media took notice after this rant for the ages following the Saluki's loss at Murray State on Tuesday night.
On rebounding, "I've been telling my wife this for years, that size doesn't matter."
Another gem: "My wife could score more than two buckets on 11 shots because I know my wife will shot fake at least one time."
You can discuss this and more on the MVCfans.com Message Board
Illinois State upset #25 Dayton 81-75 before an energetic crowd at Redbird Arena on Saturday night earning Head Coach Dan Muller the biggest win of his young tenure.  Illinois State opened a 39-32 halftime lead, but watched the Flyers respond with a barrage of three pointers to briefly take a 50-48 lead in the second half.  The Redbirds then shifted momentum with an attacking offense and opportunistic defense to open a 75-59 lead with 4 minutes to play.  The Flyers put a scare into the home crowd cutting the lead to 75-69 with just one minute to play before Illinois State secured the victory at the free throw line.
Daishon Knight led Illinois State with 20 points, 6 rebounds, and 4 assists.

You can discuss this and more on the MVCfans.com Message Board

This is my first update since before the season started and now that we have a month of the games in the books, I think we have an adequate sample size to at least begin an appropriate assessment of the Valley teams.
Here is a look at my updated MVC Power Rankings.
MVC Power Rankings
1) Wichita State - Ron Baker and Fred VanVleet have been terrific. Can't imagine a scenario where the Shockers fall from top spot.
2) Indiana State - The high and low of a season within 10 days: Sycs beat #21 Notre Dame, then lose to winless Tulsa.
3) Missouri State - Nice win over Texas A&M, but Bears have injury issues that threaten to derail the season.
4) Northern Iowa- A 3-3 record for the Panthers might seem like trouble, but losses have come against opponents with 16-5 combined record.
5) Drake - Bulldogs make the biggest jump as they start 5-1 (only loss at St. Mary's) behind Richard Carter's 21.0 ppg.
6) Bradley – Braves have 5-2 record, but were beaten soundly in both games they played against BCS teams (Illinois, Arizona St).
7) Evansville – DJ Balentine was the MVC breakout player early on, but Aces have lost last two games by a combined 53 points.
8 ) Illinois State – Redbirds get the nod here over the final two based on their win in Evanston over Northwestern.
9) Loyola - Four Ramblers' losses are by a combined 18 points.  Christian Thomas leads the team with 14.0 ppg and 6.9 rpg.
10) Southern Illinois - Salukis played Mizzou and SLU close, but yesterday's loss to Chicago State has to be worrisome.

You can discuss this and more on the MVCfans.com Message Board
Ron Baker was 11-11 from the free throw line and scored 23 points, leading #12 Wichita State to a come from behind victory over BYU in the CBE Hall of Fame championship game in Kansas City. In a 68-62 game with under a minute to play, Baker calmly made two free throws after BYU's Nate Austin was assessed a flagrant-2 and ejected from the game for a foul to the Baker's head.
Baker was named the tournament's most outstanding player. Fred VanVleet and Cleanthony Early each added 12 points for the 12th ranked Shockers. With the win, Wichita State moves to 7-0.
You can discuss this and more on the MVCfans.com Message Board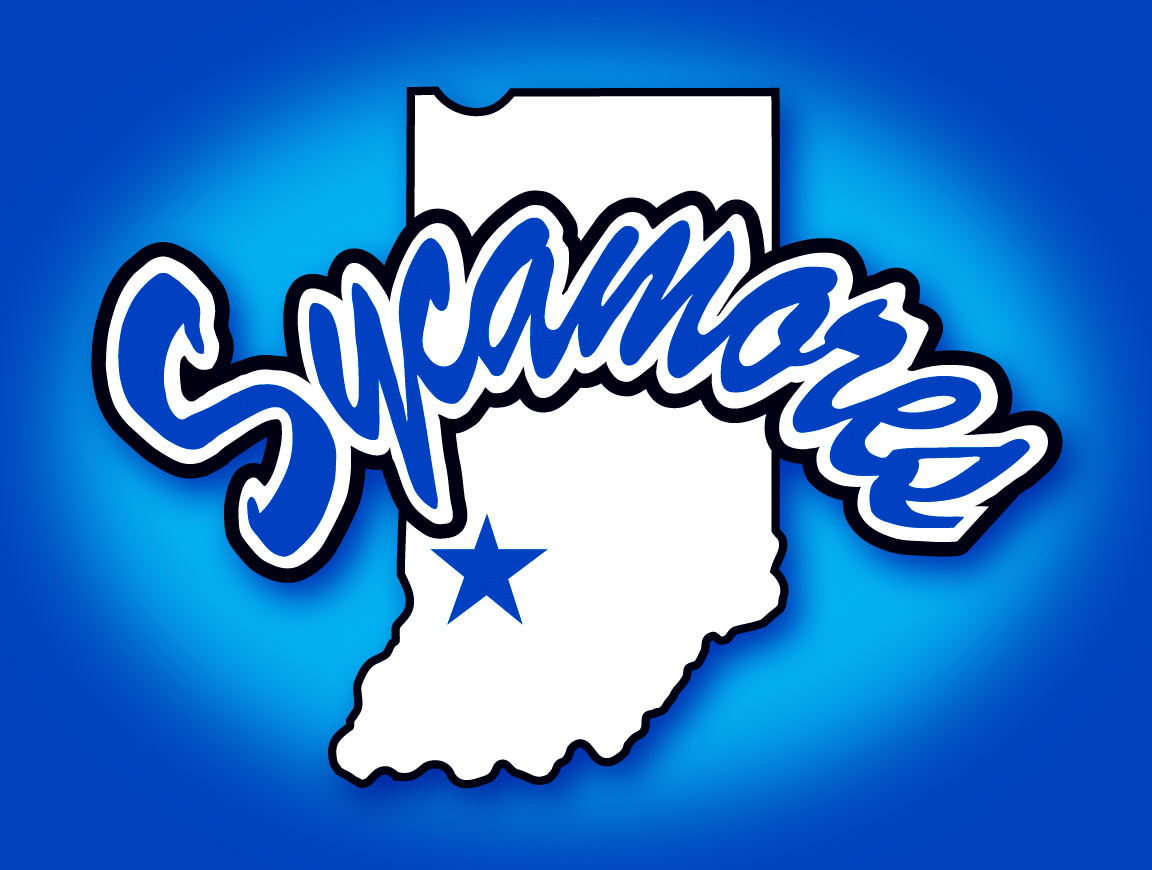 Prior to Sunday's meeting with Indiana State, Notre Dame had been 48-0 in November games at home under head coach Mike Brey. That fact didn't bother the Sycamores, however, as the visitors largely controlled their matchup and posted an 83-70 victory in South Bend.
Indiana State led the Fighting Irish 40-30 at halftime, but Brey's squad opened the second half quickly and gained a 45-44 lead with 15 minutes to play. The Sycamores responded with an 18-3 run to quiet the home crowd and Indiana State cruised from that point forward.
The difference in the game was Indiana State's stellar shooting. ISU made 11 of 20 three pointers and 16-17 from the free throw line; Notre Dame was just 7-26 from behind the arc. Justin Gant led the Sycamores with 17 points and Khristian Smith scored 15 off the bench.
With the win, Indiana State moves to 2-1 on the season.

You can discuss this and more on the MVCfans.com Message Board

Last week I presented my predicted finish for the upcoming MVC men's basketball season (see below). With MVC Media Day scheduled for tomorrow in Chicago, we are happy to present our preseason All-MVC teams and individual award selections.
First Team All Missouri Valley Conference
Cleanthony Early, Wichita State – Preseason MVC Player of the Year
Jake Odum, Indiana State
Marcus Marshall, Missouri State
Walt Lemon Jr, Bradley
Seth Tuttle, UNI
Second Team All-Missouri Valley Conference
Ron Baker, Wichita State
Jamar Gulley, Missouri State
Desmar Jackson, SIU
Christian Thomas, Loyola
Manny Arop, Indiana State
Honorable Mention All-Missouri Valley Conference
Fred VanVleet, Wichita State
DJ Balentine, Evansville
Zach Lofton, Illinois State
Anthony Beane, SIU
Deon Mitchell, UNI
Tyshonn Pickett, Bradley
Player of the Year – Cleanthony Early, Wichita State
Newcomer of the Year – Wes Washpun, UNI
Freshman of the Year – Milton Doyle, Loyola
You can discuss this and more on the MVCfans.com basketball discussion board.
This site has existed for 4 years and each season we ask fans of the Missouri Valley Conference to predict the finish of the men's basketball season.  We have conducted weekly polls over the past two months and have finally concluded our voting with the selection of the Wichita State Shockers as the projected league champion.
I present the results of the fan voting below along with my own personal predictions.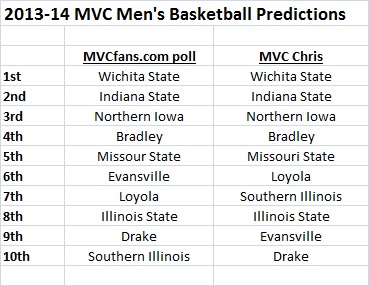 For those interested, here are previous MVCfans.com results (predicted / actual):
2010-11: Wichita State / Missouri State 
2011-12: Creighton / Wichita State
2012-13: Creighton / Creighton
You can discuss this and more on the MVCfans.com message board

Now that we have started the 4th installment of our MVCfans.com predictions, I offer my final preseason power rankings until our polling has completed.  There is no doubt that Wichita State will be selected to win the Valley.  Indiana State and UNI will undoubtedly be 2nd and 3rd (or 3rd and 2nd).  After that, spots 4-10 could go any which way.
MVC Power Rankings:
1) Wichita St – Shockers will be a unanimous selection and Cleanthony Early preseason POY.
2) Indiana St - Can the senior version of Jake Odum take the Sycs back to the NCAA tournament the way he did as a frosh?
3) UNI - I think success in Cedar Falls rides on the development of Deon Mitchell.
4) Bradley – I favor the experience of Lemon, Pickett, and Prosser in placing the Braves here, but worry about depth.
5) Missouri St – This year's Bears will make a big jump and could position themselves for a Top 2 finish next season.
6) Loyola - I acknowledge this might be a reach, but I will go out on a limb and say the Ramblers avoid Thursday night.
7) SIU - Despite a weakened inside presence, Barry Hinson knows the Valley well and he'll get the most out of Jackson and Beane.
8 ) Illinois St - I could be convinced to drop the Redbirds lower. It wouldn't be that hard except for the questions at 9 and 10.
9) Evansville - Losing Colt Ryan was bad enough, but Ned Cox and Troy Taylor too?  Could be a long year for the Aces.
10) Drake – A new coach and a roster overhaul typically doesn't result in a winning season right out of the gate.
You can discuss this and more on the MVCfans.com message board