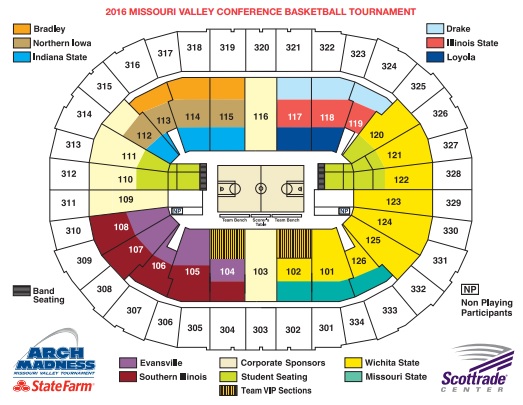 You can discuss this and more on the MVCfans.com Message Board
Derrick Docket, MVC Associate Commissioner for New Media & Technology, hosts another edition of Inside the Valley.

Knee jerk reaction to tonight's classic battle between the Aces and Salukis:
MVC Power Rankings
1) Wichita State 9-0 – Shockers have a two game lead as they make they turn and it doesn't look like anyone is going to catch them.
2) Evansville 7-2 – DJ Balentine hit the shot of the year in Valley play with his three pointer tonight to send the Aces into OT vs SIU. Huge game this weekend vs Wichita State.
3) SIU 7-2- Salukis are 18-4! Holy smokes. Yes, I get that the out of conference schedule was weak, but cmon, 18-4? Wow.
4) Indiana State 6-3 - Sycs have three league losses (one to each of the teams above) but hammered the Aces in Terre Haute, so don't sleep on Greg Lansing's squad.
5) Illinois State 6-3 -  See above: Redbirds losses are all to teams ranked above them here. Ceiling is high for this group if Muller can get everyone on board.
6) Missouri State 4-5- The fact that a team is 8-13 overall and projected to avoid Thursday night in STL says more about the bottom of the league than I can add.
7) UNI 3-6 – Panthers were ranked 2nd in our last MVC update and then the floor dropped out from underneath them. Instead of worrying about NCAA at large chances, UNI fans are relegated to trying to avoid the indignity of the play in round at Arch Madness.
8 ) Loyola 2-7 – Loyola owns a win at UNI, but they are slotted behind them here simply due to the fact that the Ramblers lost to Bradley.
9) Drake 0-9 – Drake looks lost, but I just didn't have the guts to move Bradley out of last place.
10) Bradley 1-8 – Remember when the Braves opened the season with a win over Ball State? Seems like a lifetime ago.
You can discuss this and more on the MVCfans.com Message Board

For the first time in several years, the Valley doesn't have an overwhelming favorite to win the league as conference season begins today. At different times over the past couple of weeks, I had the Aces, Shockers, and Panthers all atop these rankings only to have an untimely or surprising loss derail them one by one. I've yet to meet anyone confident enough to tell me with certainty where  the Valley is headed this year, but most seem to agree that circumstances could result in a one bid league. My gut tells me we have 2 teams dancing on Selection Sunday, but league officials might need a couple extra doses of Maalox for the heartburn as the calendar turns to March.
MVC Power Rankings
1) Wichita State 6-5 – The Shockers go back to the head of the class because a true inspection reveals that WSU has no "bad losses" as all five have been to potential NCAA teams including several played without Fred VanVleet. The Shockers convincing win over Utah (who subsequently won at Duke) is probably the truest indication that the Shockers deserve to be here.
2) Northern Iowa 8-5 – I suspect that the Panthers will be one of the more difficult teams for the Selection Committee to assess in March. Is there a school with a better pair of wins than UNC and Iowa State? Maybe not, but UNI's five losses have all been to teams unlikely to make the NCAA tournament and that could be difficult to overcome without an outstanding record in league play.
3) Evansville 11-2- Aces would have been slotted atop this poll if they hadn't laid an egg at Arkansas and had instead entered conference play with just one loss to Top 10 Providence. Instead, Evansville put themselves in a bad situation without a single non-conference win over a team likely to make the NCAA tournament (barring an automatic bid).
4) Southern Illinois 11-2 - After the top 3, things get awfully muddled. I acknowledge their schedule had plenty of 200+ RPI opponents, but SIU beat Kent State and Oakland which are better wins than either of the next two schools have that were considered for this spot. We'll give Barry Hinson the benefit of the doubt and put the Salukis fourth… for now. Huge game vs Loyola tonight.
5) Loyola 7-5 -  Frankly, I expected more out of the Ramblers this year and it's not a great sign when an upper half MVC team has an RPI of 217 entering league play. Loyola opens their MVC schedule with games against SIU, IndSt, IllSt, Missouri St, and Bradley. To retain this spot, Ramblers need to win at least 3 of those games.
6) Illinois State 6-7 – If Loyola has been disappointing, Illinois State's performance thus far has been head scratching. Redbirds have zero quality wins – zero. Seriously, check for yourself (best win is either 67-66 over 5-5 Morehead St or 63-61 over 4-6 Murray State). Yikes. If we needed to sum up ISU in one word – underachieving.
7) Indiana State 6-6 – Sycamores take a three games winning streak into league play including a road win at SLU. I always felt Greg Lansing was a very good coach and he'll need to do one of his best jobs to finish above .500 this year.
8 ) Drake 5-7 – I almost slotted the Bulldogs one spot higher because their recent losses to DePaul, Nevada and Iowa were all close and competitive. That's how bad things have gotten at the bottom of the MVC.
9) Missouri State 4-8 – I'm not quite sure how you go into Stillwater and beat Oklahoma State, follow that up with a dominant win over Oral Roberts and then lose at home to previously winless SEMO.
10) Bradley 2-11 – If there was ever a season that the history books and media guides should omit from existence, the Braves' season in 2015-16 would meet all the criteria. Somewhere, Kurt Kanaskie has his fingers crossed.
You can discuss this and more on the MVCfans.com Message Board

Now that we are a month into the season I think we've seen enough games to adequately assess the Valley and update our power rankings.  There is a pretty dramatic drop off after the Top 6 and as of yet there isn't much to say about the bottom of the league.
MVC Power Rankings
1) Evansville 7-1 – Aces at-large chances don't have much room for error with a soft non-con schedule, but they have secured decent wins over Belmont and Murray State and their only loss was to Top 20 Providence. If they can win at Arkansas tomorrow and take a 12-1 record into MVC play, they'll be in the NCAA discussion.
2) Wichita State 3-4 – Is it crazy to put WSU here with a losing record? With Fred VanVleet back on the court, the Shockers handled SLU easily. Hard to argue putting them any lower and I'm sure they would still be the bettors favorite to win the Valley.
3) UNI 5-2- Panthers have only one win against a team with a winning record, but that was over #1 ranked North Carolina. A huge game looms with Top 10 Iowa State next weekend in Des Moines.
4) Southern Illinois 8-1 - No question the surprise of the early season has been Barry Hinson's Salukis. But can they sustain this level of success once the Valley season starts? Probably not, but escaping Thursday night at Arch Madness would be progress.
5) Loyola 5-3 -  Ramblers followed up a bad loss to sub-200 RPI UNC-Asheville with a victory over former MVC member Creighton. Milton Doyle has looked like an All-Valley performer so far.
6) Illinois State 3-6 – Redbirds have been disappointing, but they have also showed young potential.  Playing Kentucky even for a half and leading late in the game at Maryland should give ISU fans hope.
7) Indiana State 3-4
8 ) Drake 4-4
9) Missouri State 2-5
10) Bradley 1-8
You can discuss this and more on the MVCfans.com Message Board

Missouri Valley Conference Media Day will be held this morning so it is time to make my fearless predictions. I had a little more trouble making some of the second team and honorable mention selections this year and I ended up giving my final spot to one guy no one else will probably recognize, but every team wishes they had.
Once again, I expect Wichita State to be a unanimous favorite to win the league and (once again) both Fred VanVleet and Ron Baker will vie for Larry Bird Player of the Year honors. I picked Baker last year and I will stick with it in '15-'16. My predictions for all-MVC teams and individual honors are below.
First Team All Missouri Valley Conference
Ron Baker, Wichita State – Preseason MVC Player of the Year
Fred VanVleet, Wichita State
DJ Balentine, Evansville
Egidijus Mockevicius, Evansville
Milton Doyle, Loyola
Second Team All-Missouri Valley Conference
Paul Jesperson, UNI
Devaughn Akoon-Purcell, Illinois State
Anton Grady, Wichita State
Wes Washpun, UNI
Anthony Beane Jr, SIU
Honorable Mention All-Missouri Valley Conference
Devonte Brown, Indiana State
Brenton Scott, Indiana State
Montel James, Loyola
Reed Timmer, Drake
Evan Wessel, Wichita State
Player of the Year – Ron Baker, Wichita State
Newcomer of the Year – Anton Grady, Wichita State
Freshman of the Year – Joel Okafor, Bradley
You can discuss this and more on the MVCfans.com basketball discussion board.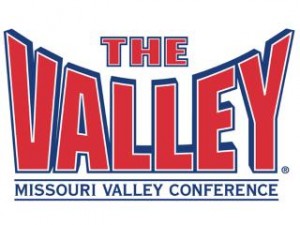 For the third consecutive year, the users at MVCfans.com have chosen the Wichita State Shockers as the likely regular season champion of the Missouri Valley Conference.  The Evansville Purple Aces were predicted by our voters to finish second.
Official MVCfans.com – Predictions to date:
10th Place – Bradley
9th Place – Missouri State
8th Place – Southern Illinois
7th Place – Drake
6th Place – Indiana State
5th Place – Loyola
4th Place – Illinois State
3rd Place – Northern Iowa
2nd Place – Evansville
1st Place – Wichita State
Message board and poll results: MVCfans.com 2015-16 men's basketball discussion
Derrick Docket, MVC Associate Commissioner for New Media & Technology, visits with MVC television analyst Mark Adams and more.
Listen to Derrick Docket, MVC Associate Commissioner for New Media & Technology, discuss the Valley's MTE schedule and more.