Each team in the Missouri Valley Conference has only 3 games remaining.  Thanks to Hacksaw, we are now all up to date on the possible seed scenarios for each team.  It looks like there will be quite a battle to avoid 7th place and the play-in game on Thursday night in St. Louis.
With 15 conference games remaining, there are 32,768 different outcomes for the remainder of the conference season. The below charts break down the possible finishes. The top chart is the specific number of occurrences, and the bottom chart is the percentage that calculates to. These charts take into account the head-to-head tiebreaker (and mini round-robin for a 3+ way tie), and assume that if the mini round-robin does not break the tie, it goes straight to the out of conference strength of schedule tiebreaker. Currently that order is what I have from ESPN (WSU 25, UNI 29, BU 67, MSU 80, CU 182, EU 188, DU 222, ISU-Red 293, ISU-Blue 299, SIU 320).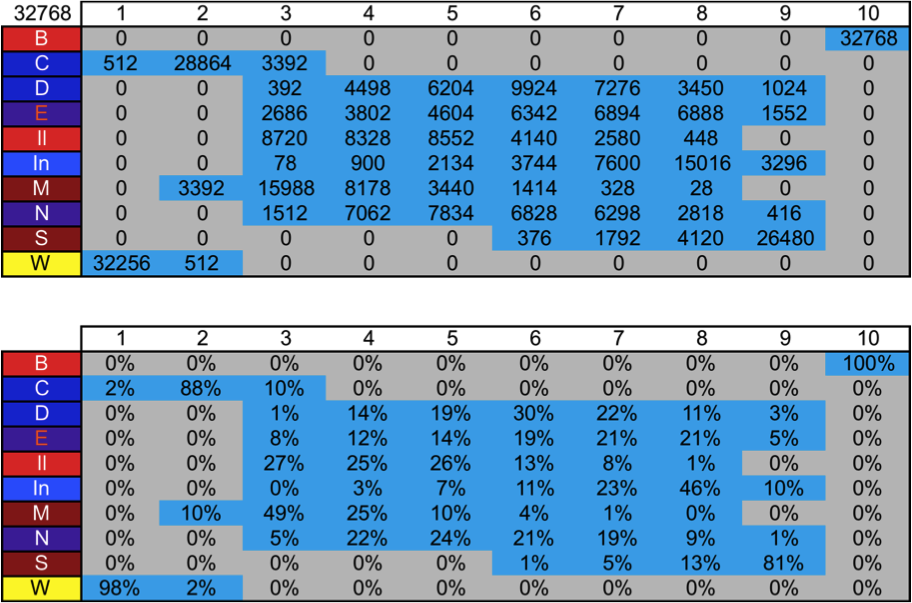 You can discuss this and more on the MVCfans.com message board:
MVCfans.com basketball discussion
Just two games on the Valley schedule today.
Bradley (+14.5) at Missouri State
The Braves won their second conference game of the season on Wednesday, but the trip to Springfield wouldn't appear to be the right recipe for a winning streak. Thanks to Illinois State's loss yesterday, the Bears can move into sole possession of third place in the Valley standings with a win. It's a big number, but I'd guess MSU rolls in this one.
Evansville (-1) at Drake
After their upset of Creighton on Tuesday, a win today by the Aces moves them comfortably (for now) away from the play in games in St. Louis. Drake has been scuffling in the absence of Ben Simons and it's unclear when (or if) he might return. The correct play here is to give the single point and take Evansville, but I wouldn't be surprised if Coach Phelps can conjure a big game from Rayvonte Rice and the Bulldogs pull an upset.
You can discuss this and more on the MVCfans.com message board:
MVCfans.com basketball discussion

In a game that many expected to be a showdown between Valley Player of the Year Candidates, Garrett Stutz of Wichita State and Doug McDermott of Creighton were relative non-factors.  Instead, it was the play of Shockers' Joe Ragland (22 points) and Ben Smith (24 points) that pushed Wichita State within a win of at least a share of the Missouri Valley Conference regular season championship.
After Creighton opened up a quick 8-4 lead, Wichita State scored the next 11 points and never trailed again. Stutz was saddled with early foul trouble and only played 13 minutes, scoring 8 points on 3 of 6 shooting. Interestingly, his absence allowed the Shockers to open up their offense and attack the Bluejays off the dribble, leading to numerous easy baskets and open three pointers. Wichita State shot 58% from the field and made 8 of 16 three point attempts. The Shockers also outrebounded the Bluejays 36-21.
Creighton was led by Gregory Echenique's 16 points and 5 rebounds.
You can discuss this game and more on the MVCfans.com message board:
MVCfans.com basketball discussion

Three games on the schedule for today including the big one between Wichita State and Creighton. It's possible that the regular season league title could be all buy sewn up at the end of the day or we could have a battle to the final weekend of the season.
Southern Illinois (+8) at Indiana State
Neither the Salukis or Sycamores had been able to string together many consecutive wins in Valley play. At 5-9 in league play, both teams are in danger of playing on Thursday night in St. Louis and I'd argue that you can almost certainly write the loser of this game into one of those 4 slots. It's a tough one to pick, but I'll take SIU to beat the spread, but lose the game.
Illinois State (+6.5) at Northern Iowa
The Panthers desperately want this game to give themselves a shot to climb into the upper half of the league race. Plus, UNI is still smarting from the drubbing in Wichita on Wednesday. Illinois State is playing with house money, sitting in third and owning the tie-breaker over Missouri State for the moment. I'll take desperation over satisfaction in this one and go with the Panthers to cover.

Wichita State (+1) at Creighton
It seems as though the season has been building to this moment for these teams and the energy is palpable. Creighton won in Wichita, but the Shockers can all but claim the league title with a win in Omaha today against the suddenly struggling Bluejays. The pundits will tell you that this game is going to be won on the interior between Echenique, Stutz, McDermott and Hall. I think otherwise. My belief is that whichever team makes more three pointers wins this one. In the first meeting, the Shockers led early and then went ice cold from the perimeter allowing Creighton to come back. If WSU can hit more 3′s than Creighton, the Shox win. I'll take WSU in a slugfest 70-68. Here's a look back at a couple of classics in the series: Wichita St – Creighton moments
You can discuss this and more on the MVCfans.com message board:
MVCfans.com basketball discussion
"He doesn't speak a lick of English…"
Worth a look if you have a couple of minutes.
And down the stretch they come.  As the Missouri Valley Conference approaches the final turn, we still have a battle at the top and a logjam in the middle.  Much will be determined this weekend.
Here are the current standings:
Wichita St……..12-2
Creighton………11-3
Illinois St……..8-6
Missouri St……..8-6
Evansville………7-7
UNI…………….6-8
Drake…………..6-8
Indiana St………5-9
SIU…………….5-9
Bradley…………2-12
You can discuss everything about the Valley on the MVCfans.com message board:
MVCfans.com basketball discussion

After the happenings of the last several days, things are starting to come into focus in the Valley – or are they becoming more muddled?  Either way, after tonight, each team will have only 4 conference games remaining.  There is little doubt that every game has the potential to impact seeding for Arch Madness beginning on March 1 in St. Louis.
Drake (+7.5) at Illinois State
In Ben Simons' absence, Drake got drilled at home by Missouri State on Saturday. Reports are that Simons will not play again tonight, so take the Redbirds here to win and cover.
Indiana State (-6) at Bradley
The Sycamores had won three straight prior to a close loss in Wichita. Bradley, on the other hand, looks every bit of the 10th place Valley team losing six straight by an average on almost 23 points per game. Take Indiana State to cover.
Missouri State (-4) at Southern Illinois
The Bears have an opportunity to further solidify a Top 4 finish. I think it's probably a bit of a risk, but I would take Missouri State if I had to pick.
Northern Iowa (+10.5) at Wichita State
The game of the night in the Valley. With a win, Wichita State moves into sole possession of first place. Looking ahead, an additional win over Creighton on Saturday would all but assure them a Valley regular season title. UNI is coming off of an emotional win. While I don't think the Panthers win, I'll take the points.
Evansville defeated #17 Creighton 65-57 on Tuesday night behind 15 points from Kenny Harris and a cold shooting night for one of the nation's top three point shooting team.  The Bluejays cut a 10 points Aces lead to 2 at half and quickly opened a 7 point lead in the second half, but the Aces made 18 of 22 FTs and used timely baskets from Harris in the final minutes to secure the victory.  The Bluejays made only 4 of 22 three point attempts.
Doug McDermott scored 21 points for Creighton in the loss.
Creighton falls to 21-4 overall and 11-3 in MVC play. The Aces improve to 12-12 and 7-7 in the Valley.
You can discuss this and more on the MVCfans.com message board:
MVCfans.com basketball discussion

Only one game on tap for tonight in the Valley as the Bluejays face the Purple Aces.  It doesn't look like there is any television scheduled for the game so I'm not sure why this one isn't being played on Wednesday with the rest of the Valley games.  Nevertheless, there are plenty of intriguing angles on this one:
Creighton (-6) at Evansville
The Jays are coming off a heartbreaker of a loss in Cedar Falls at the buzzer thanks to Anthony James. The Aces are all too familiar with losing close games as they've seen a miracle buzzer beater three pointer fall for Illinois State, a missed Aces' free throw opportunity with one second left against Wichita State, a double OT loss to Indiana State, and Saturday's one point loss against Southern Illinois when the Aces were holding the ball for the last shot in a tie game and instead turned the ball over leading to a layup (foul) and made FT that ended the game.
The Jays are in a first place tie with Wichita State, but with the Shockers looming on Saturday, is it possible that CU could look past the Aces tonight? On the other hand, Evansville desperately needs wins to avoid playing on Thursday night in St Louis – can they overcome the obvious matchup deficits in the interior and can Colt Ryan have a big game to keep it close?
I think Evansville keeps it close, but unless Ryan and Denver Holmes can get hot from the perimeter, Creighton should win this game and set up a much anticipated contest in Omaha this Saturday between the Shockers and Jays.
Update: It appears that the free video link has been removed and is no longer accessible.
You can discuss this and more on the MVCfans.com message board:
MVCfans.com basketball discussion
After the Top 2 spots, it's anybody's guess how this will all work out:
Creighton 11-2
Wichita St. 11-2
Illinois St. 7-6
Missouri St. 7-6
Evansville 6-7
Drake 6-7
UNI 6-7
SIU 5-8
Indiana St. 5-8
Bradley 1-12
Games this week:
Tuesday, Feb 7-
Creighton at Evansville
Wednesday, Feb 8-
Indiana State at Bradley
Drake at Illinois State
Missouri State at Southern Illinois
Northern Iowa at Wichita State
Saturday, Feb 11-
Wichita State at Creighton
Illinois State at Northern Iowa
Southern Illinois at Indiana State
Sunday, Feb 12-
Bradley at Missouri State
Evansville at Drake
You can discuss this and more on the MVCfans.com message board: