With 20 conference games remaining, there are 1,048,576 different outcomes for the remainder of the conference season. The below charts break down the possible finishes. The top chart is the percentage of scenarios where each team finishes in each respective tournament seed, and the bottom chart is the actual count of those scenarios. These charts take into account the head-to-head tiebreaker (and mini round-robin for a 3+ way tie), if this does not break the tie, it goes to the out of conference strength of schedule tiebreaker. Currently that order is what I have from ESPN (UNI 30, WSU 56, ISU-Red 157, MSU 173, DU 182, ISU-Blue 225, UE 228, SIU 241, BU 266, LUC 338).

The above charts take into account each possible scenario as a pure 50%/50% possibility. For a more realistic likelihood of where teams may be seeded, below you will see the remaining 20 conference games with weighted odds attached to them (from rpiforecast.com). These odds are then used to calculate the below seeding probabilities.

Here is your up to the minute projected MVC Tournament bracket provided by Hacksaw. When you look at the specifics, there appear to be three teams very likely to be playing on Thursday night (Loyola, Drake, Evansville), but there is a logjam directly above and one of those teams will also likely be joining them.

You can discuss this and more on the MVCfans.com Message Board
On a game by game basis, ESPN believes that Wichita State has no worse than a 93.3% chance to win each game individually – the most likely loss coming at Bradley. They give the Shockers a 79.4% chance to win out.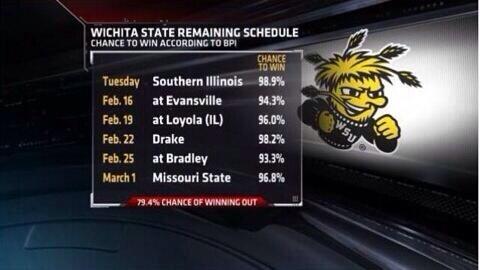 Here are Hacksaw's updated MVC standings and projected #ArchMadness seeds after 11 conference games.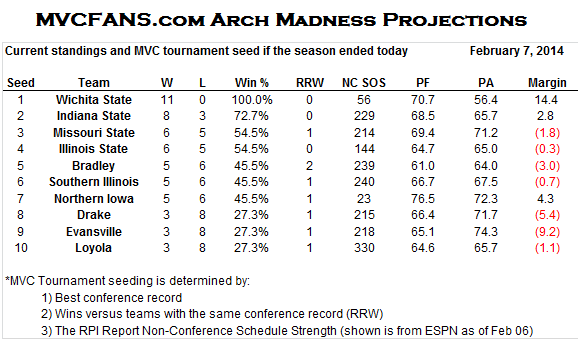 You can discuss this and more on the MVCfans.com Message Board

After Indiana State lost at SIU on Wednesday night, I tweeted that Wichita State had just clinched the MVC title. Yes, I realize it was a bit too early to make that prediction, but does anyone believe that Wichita State will lose two games in conference play? I didn't think so. What's even more interesting is that despite what most would call that "bad loss" in Carbondale, the Sycamores appear almost certain to be the #2 seed at Arch Madness after winning in Cedar Falls on Saturday. In fact, the Shockers and Sycamores are the only two Valley teams above .500 in league play. And that is exactly what makes trying to separate teams 3-10 almost impossible in this version of the MVC Power Rankings.
Here are my updated MVC Power Rankings:
MVC Power Rankings
1) Wichita State 23-0, 10-0 -Shockers muddled through wins over Loyola and Evansville and seem to have all but locked up regular season MVC title already.
2) Indiana State 17-5, 8-2 - Any at large chance that existed for the Sycs washed away after a 79-60 drubbing in Carbondale. Yet, Indiana State remains a clear #2 in the MVC.
3) Missouri State 15-7, 5-5 - Winners of three out of four (all at home), the Bears move up to their highest rating of the year. Road games at UE and SIU await.
4) Illinois State 12-10, 5-5- Very little separates the Redbirds and Panthers right now. The first meeting between the two will be Wednesday night in Normal.
5) Northern Iowa 11-11, 5-5 – Frankly, I expected more out of UNI so far. Where has the team that took Iowa State to OT and drilled VCU been?
6) Bradley 9-14, 4-6 – Walt Lemon Jr continues to be an enigma, but Braves are 4-1 in Valley play at home and that's good enough for a bump this week.
7) Southern Illinois 8-15, 4-6 – Salukis are on a two game winning streak including what may have been the most surprising win in conference play when they dominated Indiana State last week.
8 ) Drake 12-10, 3-7 – Bulldogs posted a solid win over Missouri State this past week, but it would be a minor surprise to avoid Thursday night in St. Louis.
9) Loyola 8-14, 3-7- The wins haven't come yet, but signs of progress are appearing. Milton Doyle (my FOY pick) looks like a future All-MVC player.
10) Evansville 10-13, 3-7 – It's going to be almost impossible to keep DJ Balentine off the 1st team All-MVC team, but the Aces haven't given him much support in the post-Colt era.
You can discuss this and more on the MVCfans.com Message Board
At the halfway point in the conference season, here are your projected Arch Madness seeds if the season ended today.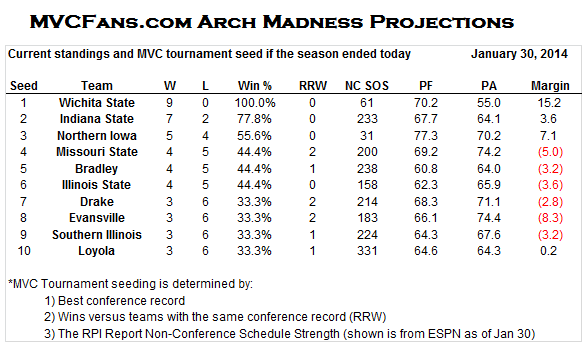 You can discuss this and more on the MVCfans.com Message Board
One of the more popular features of our site is the annual Arch Madness projections and probabilities data that is prepared by our good friend, Hacksaw. Even though the conference season is less than half way completed, we are happy to to present the initial version of what the Arch Madness seeds would be if the season ended today. The first of the official probabilities charts will be posted Sunday evening or Monday morning (Feb 16-17) when there are 20 conference games remaining.
You can discuss this and more on the MVCfans.com Message Board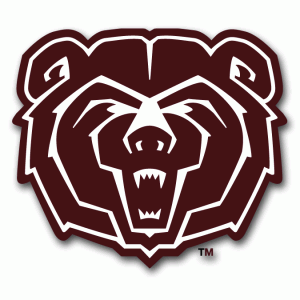 Adding to the pain of Missouri State's loss to #6 Wichita State in overtime on Saturday was news on Tuesday that star guard Marcus Marshall sustained a knee injury in the extra period.  The injury to last year's Missouri Valley Conference freshman of the year was an apparent tear to the meniscus in his right knee.  Surgery will be performed on Wednesday.
Missouri State head coach Paul Lusk said more will be known about Marshall's prognosis following surgery.  It is expected that he could miss a significant portion of the rest of the men's basketball season.
You can discuss this and more on the MVCfans.com Message Board

We are two weeks into the Valley schedule so I feel a little more confident in these rankings than I did before conference play. The week was highlighted by Wichita State's tremendous comeback from a 19 point second half deficit to win in Springfield on Saturday. While the win showed how good of a team the Shockers can be, I think the Bears early domination may have given hope to other MVC squads looking to knock off the prohibitive favorite.
Here are my updated MVC Power Rankings:
MVC Power Rankings
1) Wichita State 17-0, 4-0 – And the beat goes on. Shockers took a number of punches at MSU, but kept battling back. A big game vs Indiana State looms on Saturday at Koch Arena.
2) Indiana State 13-3, 4-0 - Sycs have solidified themselves as most likely challenger to Wichita State, but close wins this week over Drake and Bradley show the margin for error is slim. Can Jake Odum will this team to a win in Wichita?
3) Northern Iowa 9-7, 3-1 - UNI had their own rally on Saturday night, escaping Drake with hot shooting late in the game. Panthers' only MVC loss was at WSU.  A 2-0 week and an Indiana State loss at WSU, could elevate the Panthers to #2.
4) Missouri State 12-4, 2-2- A week after losing by 32 at Loyola, the Bears had #6 WSU down 18 at half. A year of ups and downs in Springfield seems like a safe bet.  Still a relatively young team (and coach) trying to find their way.
5) Illinois State 9-7, 2-2 – I feel like the Redbirds have separate themselves from the bottom of the Valley, but I don't see them winning many games against the Top 4. 5th place seems just right for now.
6) Drake 10-6, 1-3 – Bulldogs are on a 3 game MVC losing streak. If they'd have closed out the win last night against UNI, they might sit 3rd in this week's power rankings.
7) Bradley 6-11, 1-3 – How can the Braves get promoted after losing two games this week? Good question. I have no answer other than to point at the three teams below and you tell me who's better.
8 ) Loyola 6-10, 1-3 – Ramblers humiliated a good MSU team, then promptly lost to SIU at home. Like most Valley folk, I'm still trying to get a good read on this club (and that is proving difficult).
9) Evansville 8-9, 1-3- Mary Simmons' club had lost 9 of 11 before defeating SIU on the road last night. For now, that's enough to avoid the cellar.
10) Southern Illinois 5-12, 1-3 – The only question I have about this Salukis team is if they will play in the 8 vs 9 game or the 7 vs 10 game at Arch Madness.
You can discuss this and more on the MVCfans.com Message Board